An employer may be charged with retaliation after punishing an employee for doing something legal but against the organization's rules. It might be a case of the employer giving the employee a poor performance review after they complain about harassment.
However, most of the time, retaliating against someone is not as straightforward. If you notice acts of retaliation at work, contact our Sherman Oaks employer retaliation lawyer. Every new client at Fraigun Law Group receives a free case review. We will discuss your circumstances and assist you in determining whether you have a case against your company.
Do not allow your employer to retaliate against you and get away with it – workplace retaliation in California is illegal! Call the Fraigun Law Group at 818-981-1800 to speak with an experienced Sherman Oaks employment law attorney.
What Is Workplace Retaliation, and What Does Employer Retaliation Look Like?
The state and federal laws bar an employer from taking adverse employment actions against an employee for acting as a whistleblower in employment-related issues such as age discrimination, sexual harassment, gender discrimination, wrongful termination, and racial discrimination. It's also against the law for an employer to fire an employee for refusing to engage in criminal behavior.
California's employment laws are more comprehensive regarding anti-discrimination protections than federal law. Some of the activities that count as retaliation include:
Unfair disciplinary action
Negative performance reviews
Micromanagement soon after filing a complaint
Exclusion from meetings, projects, and other work responsibilities that you would typically participate in
Income reduction or denial of bonuses and overtime
Unfair workload increases or unequal expectations for you compared to your colleagues
Wrongful termination
What Activities Are Protected From Retaliation in the Workplace?
Specific actions are considered protected under California law. You may only file a complaint of workplace retaliation in response to specific actions. Fortunately, the list of protected activities provided by the California Department of Industrial Relations includes the most essential safeguards that employees require. The following are the anti-retaliation statutes and the actions they protect.
Common Law
This court-created rule states that an employer may not retaliate against an employee for reasons contrary to public policy. Public policies are fundamental legal concepts backed by constitutional or statutory law. There are four basic categories of activity that are protected under common law:
Using a statutory or constitutional right or privileges, such as the right to family and medical leave.
Notifying the government of a violation of a public-benefiting law, such as antitrust violations.
Refusing to break the law, including refusing to commit a crime on your employer's orders.
Meeting a legal obligation, such as serving on a jury.
Whistleblower Laws
Under Labor Code 1102.5 LC, employees in California are protected from retaliation for specific protected activities. The law covers both final employment actions, such as termination, and less subtle actions such as:
Reporting suspected criminal activity by their employer.
Notifying a supervisor with authority to investigate a suspected violation of law or regulation.
Testifying before a government body investigating a potential violation by the employer.
FEHA
Employees who speak out against employers who discriminate against or harass them or their coworkers are protected from retaliation under the Fair Employment and Housing Act, FEHA. This includes safeguards against:
Filing a discrimination or harassment complaint.
Opposing acts of workplace harassment or discrimination.
Assisting in any FEHA proceeding.
Workplace Health and Safety
An employer is barred from discharging or retaliating against an employee due to:
Filing a complaint with the California Division of Occupational Safety and Health or any other workplace safety or health government agency.
Initiating or testifying in an occupational safety and health proceeding.
Exercising any right under occupational safety and health laws or participating in a committee established under these laws.
Refusing to perform work in or under conditions that violate these laws.
False Claims Act
An employer should not fire a worker because of filing a lawsuit to prevent the employer from defrauding the government through fraud, theft, or embezzlement. These types of cases are known as qui tam lawsuits. Workers who report False Claims Act violations are also protected.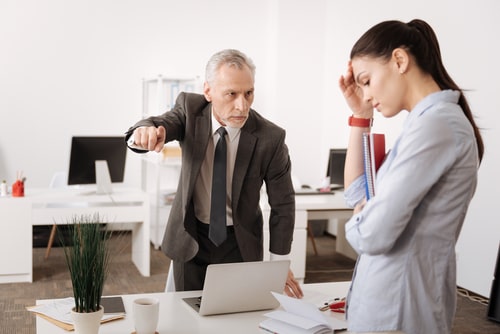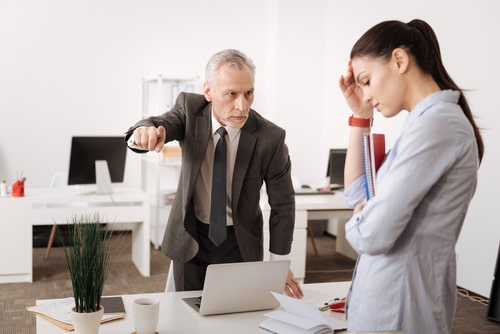 Worker's Compensation
Nobody can be fired for claiming workers' compensation. This can include things like:
Filing a workers' compensation claim.
Testifying at a compensation hearing for a coworker.
You may be entitled to protection under any of these laws depending on the facts of your situation. Our knowledgeable Sherman Oaks employer retaliation lawyer can help you determine how the rule applies to your particular situation.
Proving Employer Retaliation
To prove workplace retaliation, a Los Angeles employee must establish a link between the complaint of unlawful behavior and the act of workplace retaliation in question. A timeline of events effectively demonstrates a direct connection between your complaint and your employer's retaliatory actions.
California workplace retaliation law also considers the severity of the consequences in workplace retaliation cases. If the outcome had been known ahead of time, the retaliation would have had to be severe enough that a reasonable person would have avoided raising the issue.
For example, suppose a California employee reports workplace sexual harassment and is later demoted. In that case, the employee may have reconsidered filing the complaint if they knew it would result in their demotion. Because many employees are hired on an "at-will" basis, proving workplace retaliation can be difficult. Employees in California are employed "at will," which means a contract does not bind them.
At-will employment means that either the employer or the employee has the right to terminate the relationship at any time and for any reason. However, the law still protects at-will employees from workplace retaliation. Every employee is protected from retaliation in the workplace under federal and California labor laws and the Whistleblower Protection Act.
How Do I File an Employer Retaliation Claim in Sherman Oaks?
There are several options for filing a retaliation claim in California. Most of these are dictated by the law under which you seek retaliation. You may need to follow different procedures or approach various agencies. The following are some of the procedures:
Common Law: You have the right to sue your employer in tort for retaliation for violating public policy. This means you can sue your employer in court with the help of a workplace retaliation attorney.
Whistleblower Retaliation: Victims must notify the California Labor and Workforce Development Agency under Labor Code 1102.5 LC. The agency may investigate your complaint after receiving notification from you and your employer via certified mail. You should file a lawsuit within two years if it continues to refuse.
FEHA: Employees who have faced retaliation under the FEHA must first file a complaint with the California Department of Fair Employment and Housing (DFEH). They will investigate your complaint, and DFEH will send you a right to sue notice, giving you one year to file a lawsuit.
False Claims Act: You can claim if you were retaliated against under the False Claims Act.
Occupational Safety and Health: You must file a complaint with the California Division of Labor Standards Enforcement within six months of the retaliatory action.
Workers' Compensation: These complaints must be filed with the California Division of Workers' Compensation within one year.
Facing Retaliation? Contact a Sherman Oaks Employer Retaliation Lawyer
Typical forms of retaliation include dismissal, demotion, and harassment. On the other hand, a lateral reassignment can be considered retaliation if it impacts your eligibility for promotions or advancement. Under several federal and state laws, employees are protected from retaliation by their employers if they engage in lawful behavior.
Employment law attorney Marina Kats Fraigun of The Fraigun Law Group has extensive experience representing employees throughout California in workplace retaliation cases. She will aggressively fight to protect your rights and ensure you receive the justice you deserve.
Contact us at 818-981-1800 to get started with a free consultation with our Sherman Oaks employer retaliation lawyer.