You have the right to ask yourself if your termination was justifiable if you were fired from your job in suspicious circumstances. Employers have a lot of discretion when it comes to firing you. Employers can fire you for almost any reason. But, an employer cannot fire you for an illegal reason. An employment lawyer can help you to file a claim for wrongful dismissal if an employer terminates your employment for an illegal reason.
The wrongful termination lawyer at Fraigun Law Group, Marina Fraigun, is dedicated to protecting employees whose rights were violated at work. There are many legal issues that must be addressed regarding wrongful termination. Also, there are strict procedures to enforce your rights at work. To schedule a complimentary consultation about your case and possible remedies, please call at 818-981-1800. It may be helpful to review important information regarding wrongful termination claims with an employment lawyer.
California: Overview of Wrongful Termination
It is important to be familiar with California's default "at-will employment rule." Nearly all California employees are "at-will". What does this mean? This means you can leave at any time, although it is best to give two weeks notice. This also means your employer can terminate or suspend you for any reason, even if it's not related to the workplace. However, this does not mean that an employer cannot terminate you for any reason. Employers cannot terminate employees for illegal reasons under California law.
These are the illegal reasons that support a claim for wrongful termination.
Wrongful Termination of Discrimination
Los Angeles discrimination lawyers understand that the California Fair Employment and Housing Act(FEHA) makes it illegal to terminate someone if they were motivated substantially by you being a member of a protected group. Termination is illegal if it's based on your race, religion, mental disability, marital status, gender identity, and other categories listed in the FEHA statute.
Retaliatory Wrongful Discharge
California law also prohibits employers from firing employees as retaliation to exercising their legal rights at work. You have the right to be free of discrimination and harassment in the workplace. You can file a claim for retaliatory misconduct if your employer fires or dismisses you because you reported or complained of unlawful harassment or discrimination.
A violation of an Employment Contract
An employer cannot break a contract with an employee. You are not considered an "at will" employee if you and your employer have entered into an employment agreement. This contract would stipulate that you will only work for a certain time. Your contract should include a termination clause that clearly identifies reasons the employer can fire you. The contract might state that you can be fired only if the employer is committing a crime, engaging in conduct that is harmful to the employer, or failing to perform under the contract. You can file a wrongful termination case against your employer if you are fired by your employer for reasons that are not stated in the agreement.
Wrongful termination and whistleblowing
If your employer takes adverse actions against you for reporting illegal conduct to management or public officials, you could have a claim under the "whistleblowing" theory for wrongful termination. California's "whistleblowing" laws provide protection even if you report illegal conduct at work to a supervisor, manager, or another employee with the authority to investigate. Your employer cannot fire you for participating in or reporting on:
Illegal acts
Gross waste or mismanagement
Fraud
Public safety and health threats
Other misconduct
A Sherman Oaks wrongful termination lawyer will be able to assess your case and determine if you are eligible for wrongful termination based on whistleblowing.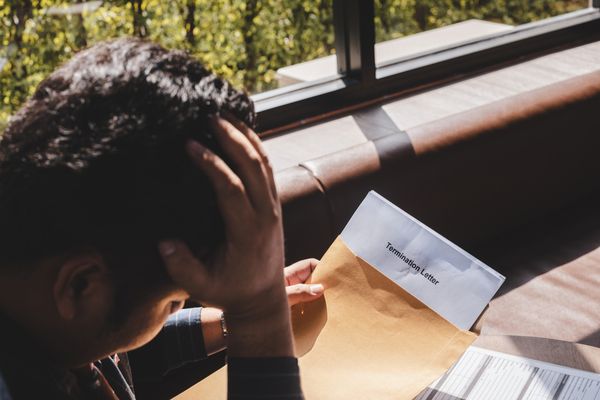 Additional Factors – When You Can Sue For Wrongful Termination
Other factors under federal and California law may affect your rights in a case of wrongful termination based on discrimination or harassment. Take, for example:
Filing a Claims: Before you can sue in Court, you must first file a claim at either the California Department of Fair Employment and Housing or the US Equal Employment Opportunity Commission. These agencies are required to assist you in pursuing litigation. As part of our legal services, we will file the claim for you.
Employer size: The state and federal laws regarding discrimination only apply to employers with a minimum number of employees. Your employer must have at most five employees to file a claim with DFEH. Federal claims require that your employer have at least five employees.
Time Limits: You have to file a claim for wrongful termination because of discrimination or harassment within a certain time limit. DFEH must be filed within one year of the time you believe you were fired unlawfully. The deadline for EEOC complaints is 300 days.
Sherman Oaks Employment Lawyers to Discuss Wrongful Termination
For more information about when you can sue to wrongful termination, please call Fraigun Law Group at 818-981-1800 or use our online form. After reviewing your case details, we can provide more information about your legal options for wrongful termination. We look forward to meeting with you. Our employment lawyers serve clients throughout Southern California from our location in Sherman Oaks.