Sexual harassment in the workplace can really be disconcerting, and nobody deserves to be put in such a position. Although it may appear like harmless colleague teasing to others, sexual harassment is a serious issue as it robs victims of their equality and dignity. No worker should have to stomach being subjected to sexual harassment, but it is an occurrence that many employees face frequently.
There are severe repercussions in sexual harassment claims for both workers and employers. Employers have to deal with disheartened employees and lawsuits brought against them. Workers lose focus of their responsibilities and could face retaliation or even termination. Sexual harassment in the workplace is illegal. Federal and California law provides you with the right to file a lawsuit.
The Encino sexual harassment lawyers at Fraigun Law Group are committed to ensuring that workers go about their business in a harassment-free and safe workspace. We will pursue the perpetrator to get justice and help you reclaim your self-worth as well as make sure the perpetrator doesn't repeat similar acts in the future.
If you have legal sexual harassment concerns, call us at 818-981-1800 to book a free consultation with an employment law attorney in Encino NOW!
What Is Sexual Harassment?
Sexual harassment refers to propositions for sexual favors from a superior at work attached to promotions, pay, or other job opportunities. It can also crop up in the form of physical or verbal abuse. Sexual harassment can be instigated by colleagues or be a part of an adverse work environment. It can be done and be aimed at either women or men.
It is categorized as a type of gender-based discrimination and violates federal and state law. Sexual harassment regulations safeguard workers from undesired sexual advancements based on their gender identity or gender by co-workers, employers, vendors, or clients of the employer.
Types of Sexual Harassment
There are two main types of sexual harassment in employment.
Quid Pro Quo Harassment
This is the most common scenario. Quid pro quo harassment means that a boss seeks sexual favors from a worker in return for favorable treatment of some type. The favorable treatment can include salary raises, promotions, advancements, or a preferable shift allocation.
The employee may face adverse treatment for rejecting sexual advances. Adverse employment actions can include salary reduction, demotion, or termination.
Hostile Work Environment Harassment
This occurs when undesired conduct or comments foster an offensive, hostile, or intimidating work atmosphere. California statutes stipulate that this form of harassment must be so persistent or severe that it alters the employment conditions and promotes a hostile workspace. Even a single undesired action of harassment can constitute an abusive workspace.
Pursuing Sexual Harassment Claims
Our Encino employment attorneys understand how upsetting sexual harassment can be and are devoted to assisting harassment victims:
Hold the offenders liable
Compile an airtight case
Get justice for sexual harassment victims
Hinder offenders and employers from harassing others moving forward
When dealing with sexual harassment, workers lose focus of their responsibilities and could face retaliation or even wrongful termination. Sexual harassment in the workplace is illegal. Federal and California law provides you with the right to file a lawsuit. Contact our Encino sexual harassment lawyers for help today!
What Constitutes Sexual Harassment in the Workplace?
Sexual harassment can include:
Unwelcome sexual requests or advances
Suggestive staring or showing sexually provocative videos or pictures
Verbal behavior like making lewd comments, degrading remarks, sexual implicit talks, or remarks regarding an individual's appearance, body, sexual activity, clothing, etc.
Physical behavior like uninvited touching or obstructing the ability of an employee to move
Providing employment perks in return for sexual intentions or requiring submission to sexual invitations as a prerequisite for continued employment
Retaliation following the rejection of sexual advances
California statutes safeguard victims of sexual harassment, witnesses, and others who support these victims. Sexual harassment doesn't necessarily need to be founded on sexual motivation or desire and can alternatively be instigated by things like abuse of power, control, and subjugation.
You should note that sexual harassment regulations are gender-neutral – the perpetrator can either be a woman or a man, and the victim may be of the same sex.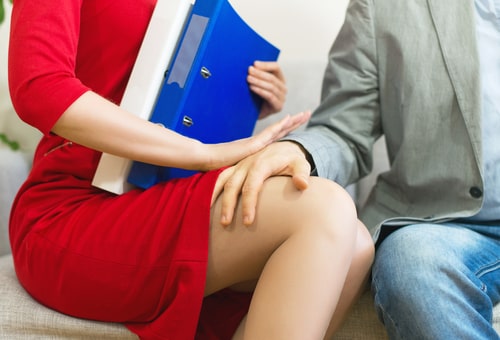 Laws Against Sexual Harassment
The Civil Rights Act (Title VII) is the federal statute that governs sexual harassment and encompasses employers with 15 or more workers. California FEHA statutes don't have a caveat as to the number of workers a company needs to have for the worker to sue for sexual harassment and offer more expansive protections compared to Title VII.
Courts typically call for the sexual harassment to be irregular or isolated in nature unless the harassment is physical or severe. An isolated or adverse action may be considered sexual harassment. On the other hand, the accumulation of several isolated instances can amount to a hostile workspace even though each action on its own isn't so serious to be considered illegal.
What to Do If You Been the Target of Sexual Harassment?
Sexual harassment is one of those things you will want to be careful about each step of the way. There are specific actions that will help strengthen your case and make sure appropriate action is taken when it should be.
These steps include:
Notify HR and file a Written Complaint.
Ask for Witness Contact Information (If Possible).
Collect All Relevant Evidence (Photos/Texts/Emails/Videos).
Keep a Record of All Incidents of Harassment.
Reach Out to a Sexual Harassment Lawyer.
It's important to go through these steps to ensure you are on the right path. We recognize how difficult this can be and the challenges that come along with handling a legal situation. This is why having a competent and experienced sexual harassment lawyer in Encino is one of the biggest positives you can rely on.
What Compensation Can I Receive for Sexual Harassment?
The damages that are associated with a case such as this can be split into three categories.
The first category is going to be economic damages. This would include any financial compensation you are hoping to receive when it comes to a situation such as this. If the impact has been on your income then this can be included in the claim.
It's important to also understand non-economic damages for cases such as these. The trauma associated with sexual harassment is going to be indicated whether this includes depression, PTSD, anxiety, or any other impact on your quality of life.
The last type of damage would be punitive damages. The court orders the employer to pay this compensation as a form of punishment.
Is There a Time Limit for Filing a Sexual Harassment Claim?
Sexual harassment claims are serious, which is why stringent time limitations are put in place. Department of Fair Employment and Housing regulations stipulate that the deadline for filing a sexual harassment claim in California is one year following the last instance of sexual harassment.
Make sure to call our law offices at Fraigun Law Group to begin legal proceedings. Failure to meet the deadline will bar you from recovering any legal remedies you are owed.
Enlist Encino Sexual Harassment Lawyers to Fight Back!
Are you going through something in the workplace that you are uncomfortable with? Is your employer or co-worker making unwelcomed sexual advances that make you uncomfortable? Don't know if you should take steps to stop that behavior? We at Fraigun Law Group are here to answer all your questions.
Don't put up with undesired sexual advances. Remember, the whole reason for going to work is to make a living. You shouldn't have to feel like you're at the mercy of somebody else. Our legal team in Encino will stand up to your harassers! We will fight on your behalf to preserve your good name and integrity.
Our consultations are free, so contact us now at 818-981-1800 to get the compensation you are entitled to.